Earn money with your
live stream
Looking for an easy way to sell tickets for your streams? Try KROWD! We are the streaming platform you need. No hidden fees, annoying ads, useless communities or 14-day trials. Just start streaming and earn cash!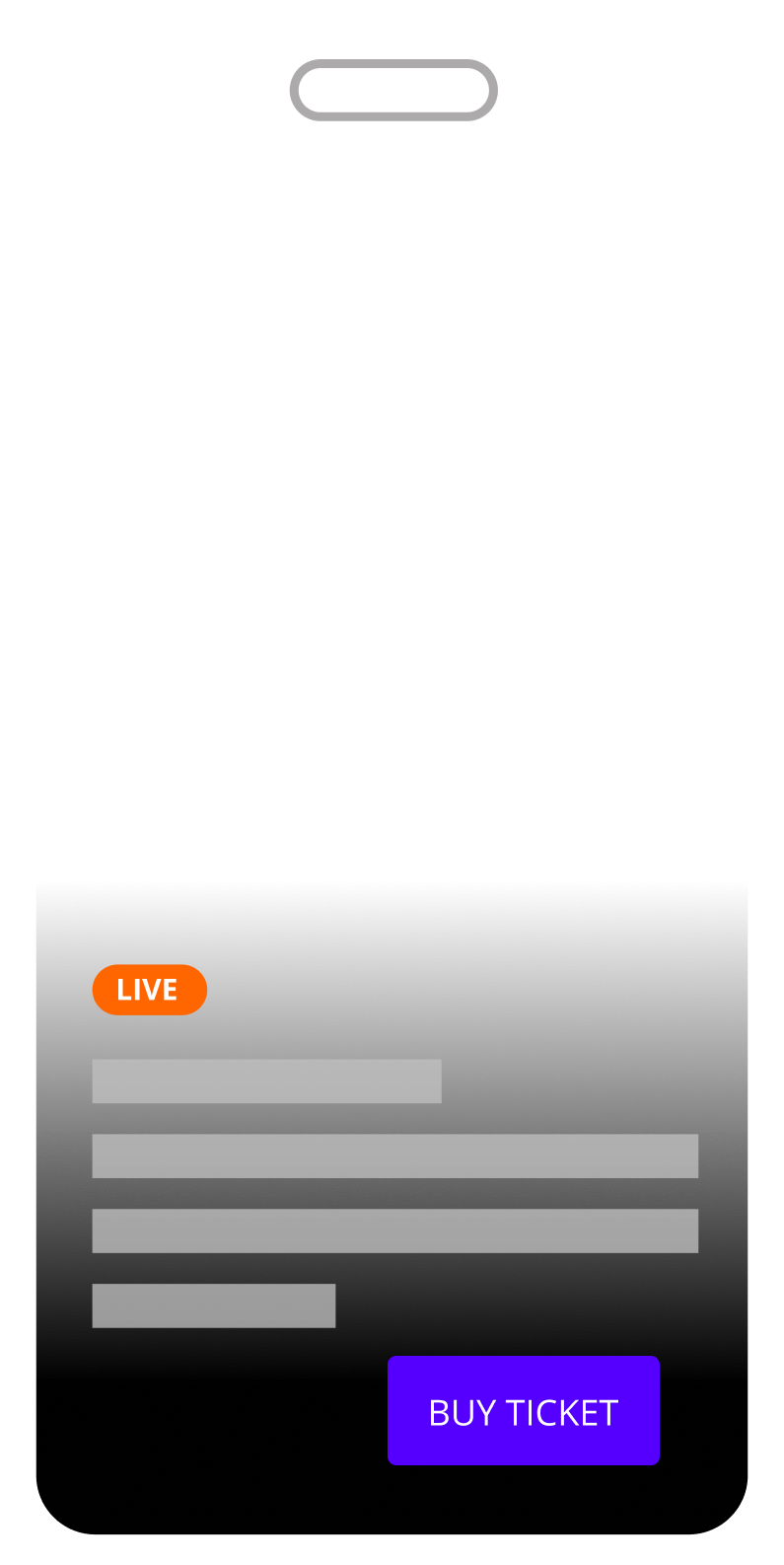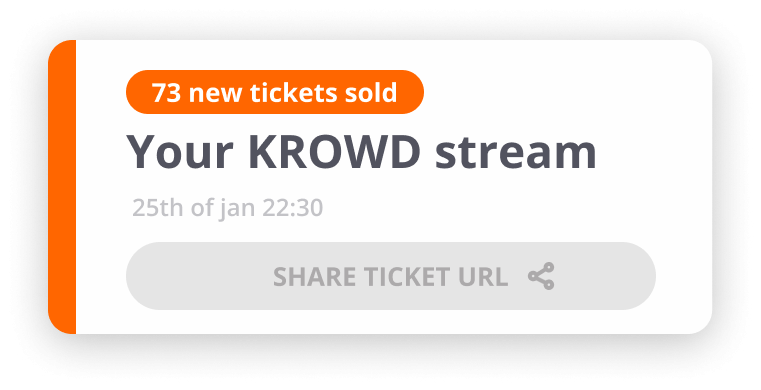 Stream or Session?
It doesn't matter if you're doing a large live stream event or want to share your skills in a masterclass. KROWD makes it easy and safe to sell tickets. We offer two ways of turning your content into cash; Streams for large crowd gigs and Sessions for group calls. Feel free to experiment and see what works for you!.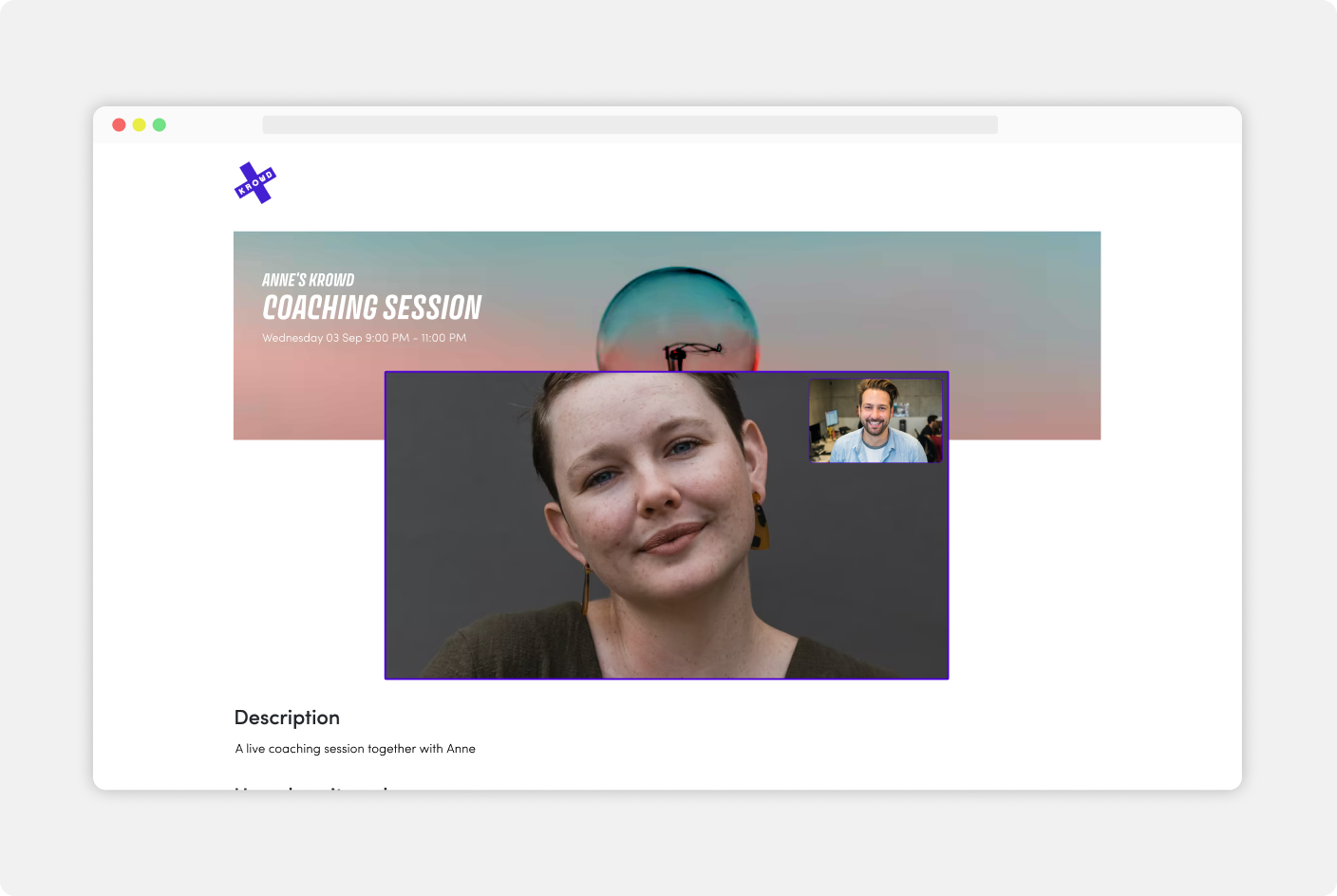 It's super easy!
So how does it work? Our goal is to make it as straightforward and simple as possible for you to start selling your live content. No hassle, no fuss, no bullshit.
1
Register
Create an account and receive your personal dashboard. It takes only 30 seconds.
2
Create event
In your dashboard, you can add a session or a live event. Pick a date and set a ticket price
3
Sell & promote
You receive a ticket URL that you can share with your fans. Each ticket is secured for 1 viewer.
4
Stream
Stream with your favourite equipment. We have clear step-by-steps if you need help.
5
Cash out
We have partnered with Stripe for payouts. You create your Stripe account via KROWD, connect your bank account and get your ticket revenue!
Plug...
and play!
We provide you with an rtmp address + stream key. You can start your stream device through your favourite stream encoder and get online! We support all popular encoder platforms and products.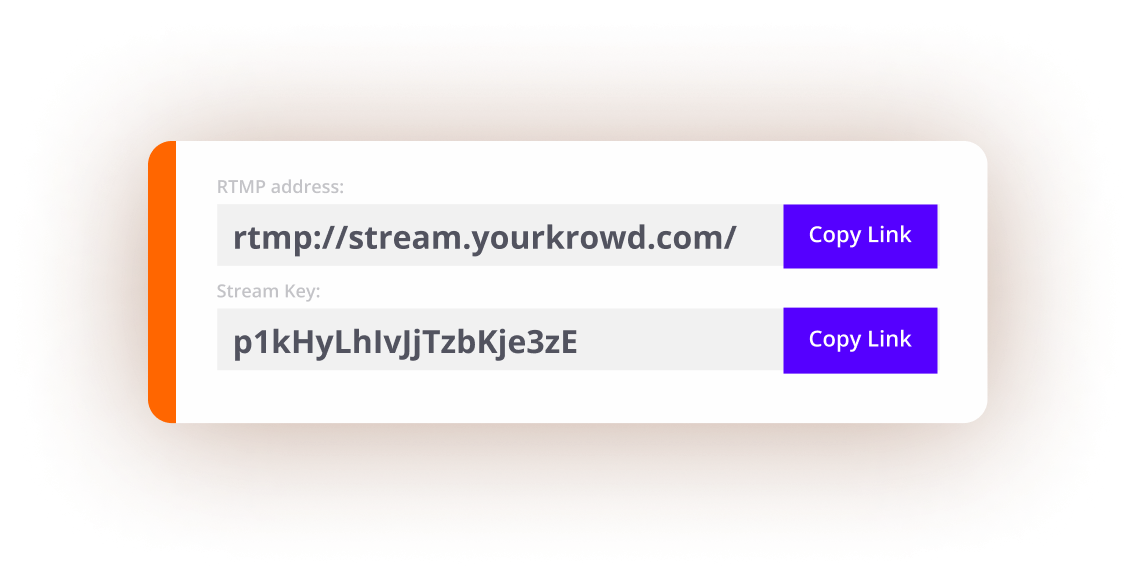 If you can stream it, you can earn with it
It doesn't matter if you want to host a stand-up comedy show or a meditation workshop, we've got you covered. As long as it's legal, we're good with it. Our platform is all about freedom of creativity and expression. You can get as creative as you want with your streams, and we'll support you every step of the way.
Live Music
Start a live stream with your band to earn some cash so you can buy another FX pedal.
Comedy
Just stream your weekly shows on the internet as well! Why not? It might just generate extra revenue.
Theater
Screw that conservative local theater venue. Your vision needs more. Stream it online!
Online Class
Why not earn an income by hosting online piano classes from home? Your dog will love it!
Masterclass
A masterclass in detective skills? Marketing? Anime shows? SEO scores? Pie baking?
Charity
Use your earnings for a good cause! Start a streaming event and use tickets as donations.
Club Events
Playing a match or social event? Use KROWD to sell tickets through an online stream.
Conference
Set a date, set a price, and host a new-years conference for your clients with KROWD!
???
KROWD helps you setup an event and sell tickets. The rest is up to you, so use your imagination. The possibilities are endless!
"The stream environment looked personalized and worked perfectly!" - Comedy Café Amsterdam
We have been using KROWD for streaming comedy shows and jazz music for about six months and are very happy with it. For the first few shows, we were a bit awkward but the support was always there and clear and helpful. By the end of 2021 we will have done our 100th stream and are loving the chance to take the Comedy Café Amsterdam out of the room and into the whole wide world.
"It's really simple to use but, more importantly, it actually does what it's supposed to!" - Waerdenborch
We ran the livestream of our school concerts via KROWD. Setting up the stream was easy, and when we got stuck, the platform owners offered quick help. By asking a small amount for the stream, we prevented 'prying eyes' and only attracted an interested audience, which we could guarantee the safety of our students. We will definitely be using this more often!
Your stream, your income
At KROWD, you only pay a small fee per ticket sold, which is €1.50 plus €0.30 per hour the stream takes (ex VAT), and the transaction cost per payment. We are continuously making sure to offer you the best fee we can afford.
How big is your fan base?
How much is a ticket to your event?
We expect you to earn between
and

per live stream.

Estimates based on a conversion rate of respectively 5% and 8% of your followers, a stream of one hour and (VAT included). Costs are automatically deducted from your profits, so you don't have to pay up front.
Ready?
Sign up now and start selling tikets for your streams! No fancy communities, no subscriptions, no ads - just a straightforward way to selli tickets and make some cash. Plus, you don't have to pay upfront - our costs are deducted from your profits. Click the button below to get started with KROWD and start turning your skills into cash today!